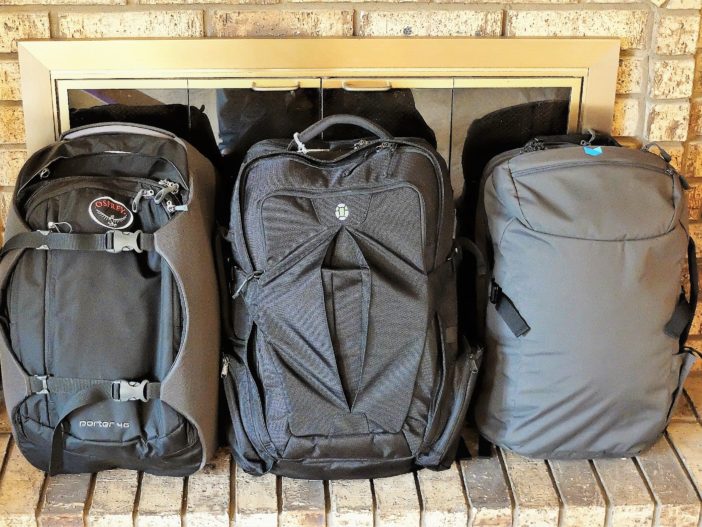 Osprey Porter 46, Tortuga, Minaal 2.0
For me, backpacks are like tattoos. I have more than I need and less than I want. I wouldn't say it's an obsession, but I am constantly looking for a better carry-on bag. A few bad travel experiences can leave a lasting impression.
Brenda and I clearly remember what a horrible ordeal our first trip to Europe was because of our luggage. I'm not kidding, one of our suitcases had horizontal shelves. It may have been just slightly smaller than our rental car. We brought enough clothing to change multiple times a day, and a few 'just in case' items. About midway through the trip we ended up having to unpack one of our suitcases in the car and rearrange all our items so we could travel with just one bag. The look on the Porters face at each hotel stop read, "typical American." And I would have to agree.
Throughout the years, we have slowly refined our approach to packing, and it starts with luggage. Sometimes having less equals more enjoyment. We've trialed a few really good pieces of luggage and packs, Briggs-Riley, Tumi, Minaal, Tortuga, and have settled on a system that works for us. (A side note: We'll be doing a review of a new carry on from a company called G-Ro. Brenda participated in a Kickstarter campaign and should be getting it soon.) We use a combination of standard carry-on suitcases along with quality packs. What we use is usually dependent upon location of the trip more than anything else.
Since most of our travels as of late bring us to warm weather climates, the carry-on packs have been utilized more than anything else. It's easy for us to spend 2+ weeks in Central America with just a backpack each if we plan properly. The two packs we travel with most are the Minaal 2.0, which is 35 litres, and a Tortuga. The Tortuga is a 44L pack so If we need to bring a few additional items, I'll grab our 46L Osprey Porter. Back in March when we were in Costa Rica, we planned to spend a few days in San Jose. Abiding by customary dress code for some of the spots in the Capital, we preferred to have shoes, slacks, and something a bit more than T-shirts, flip flops and shorts. The added space of having two packs over 40 litres was helpful.
Each pack has it's pluses and minuses, and while personal preference does play a roll in determining which pack is "the best", there are a few important features that should not be overlooked. The one thing they should all have in common is the ability to open up in a clam shell style. No need to unzip from the top and then dig around in search of an item. I think this is a required feature of a good travel backpack. Of all the packs we've trialed, my favorite is the Minaal 2.0.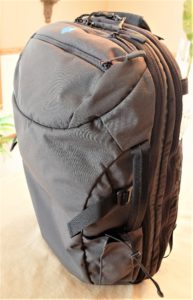 Having prescribed to the notion that if one has more space in a bag he will usually fill it, I prefer the 35L Minaal as to avoid that option. The Minaal is the perfect size. One of the first things you notice is that it is a bit smaller than the maximum allowable size for North American airlines. This is intentional. If you ever fly one of the discount airlines in Europe, such as Ryanair, you'll be able to carry on your Minaal. Not so with some of the other carry-on packs. And though it is a bit smaller, I've never had an issue with not having enough capacity. This truly is a global bag.
The overall construction of the bag is fantastic. High grade materials and strong zippers, along with smart design are the hallmarks of the bag. The main compartment has enough space to hold a couple of weeks worth of essentials. Packing is made simple because of it's ability to open completely and lie flat. You simply organize your stuff in the front clam shell section and then bring the back section over the top. The interior main compartment also has a few other spots for items. One primarily designed for toiletries and another mesh compartment for items that need to breath a bit more.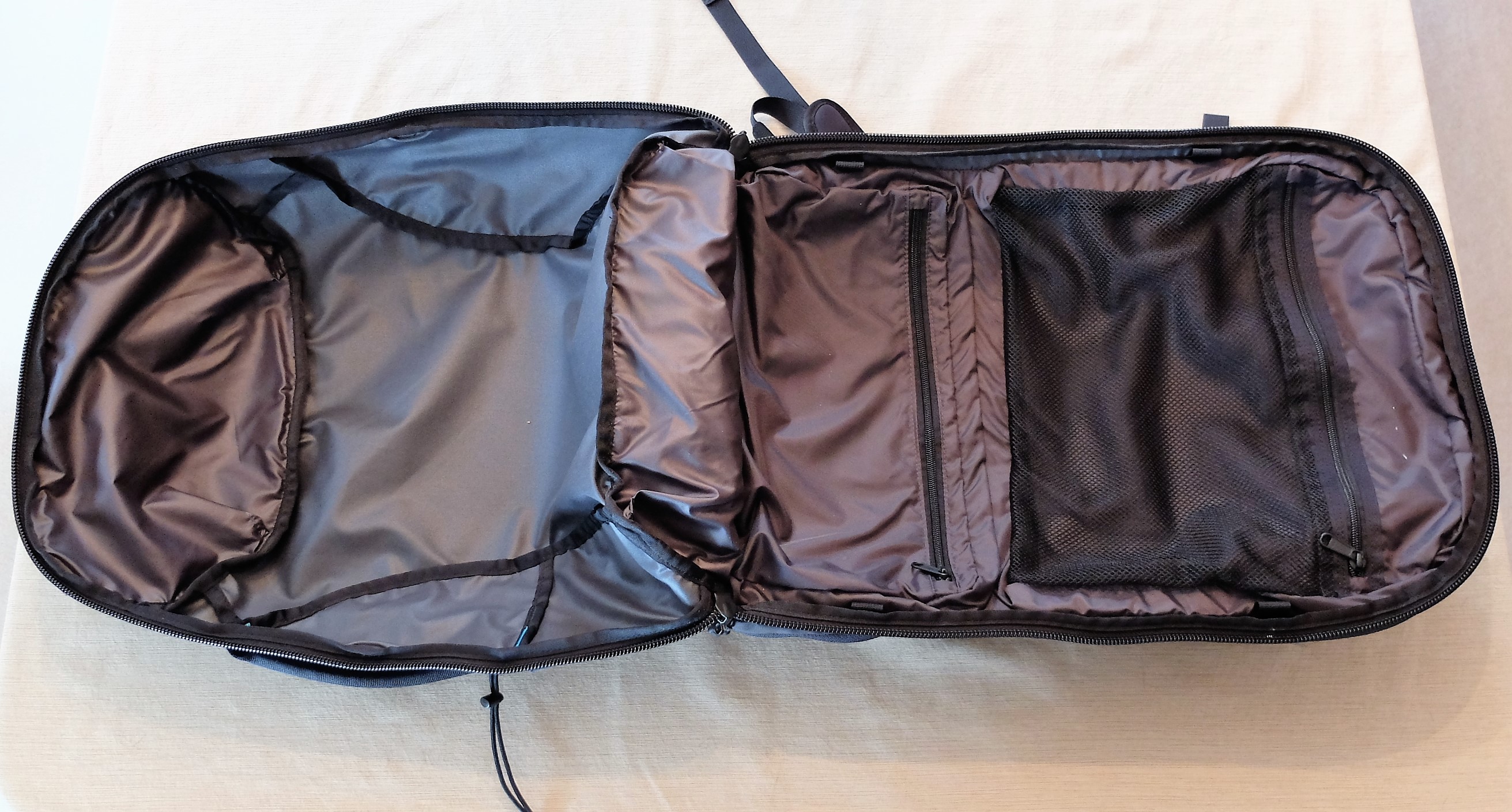 The secondary compartment has two main slots, one to hold a laptop and another for a tablet. The key feature for this compartment is that you can access your items from either the side of the bag or the top.  It's a small detail but it certainly is convenient. Also, it's placement is against your back where it should be. That is one of the issues I have with the Osprey pack. The Porter 46 has the laptop compartment toward the front of the pack which creates a greater strain on your back.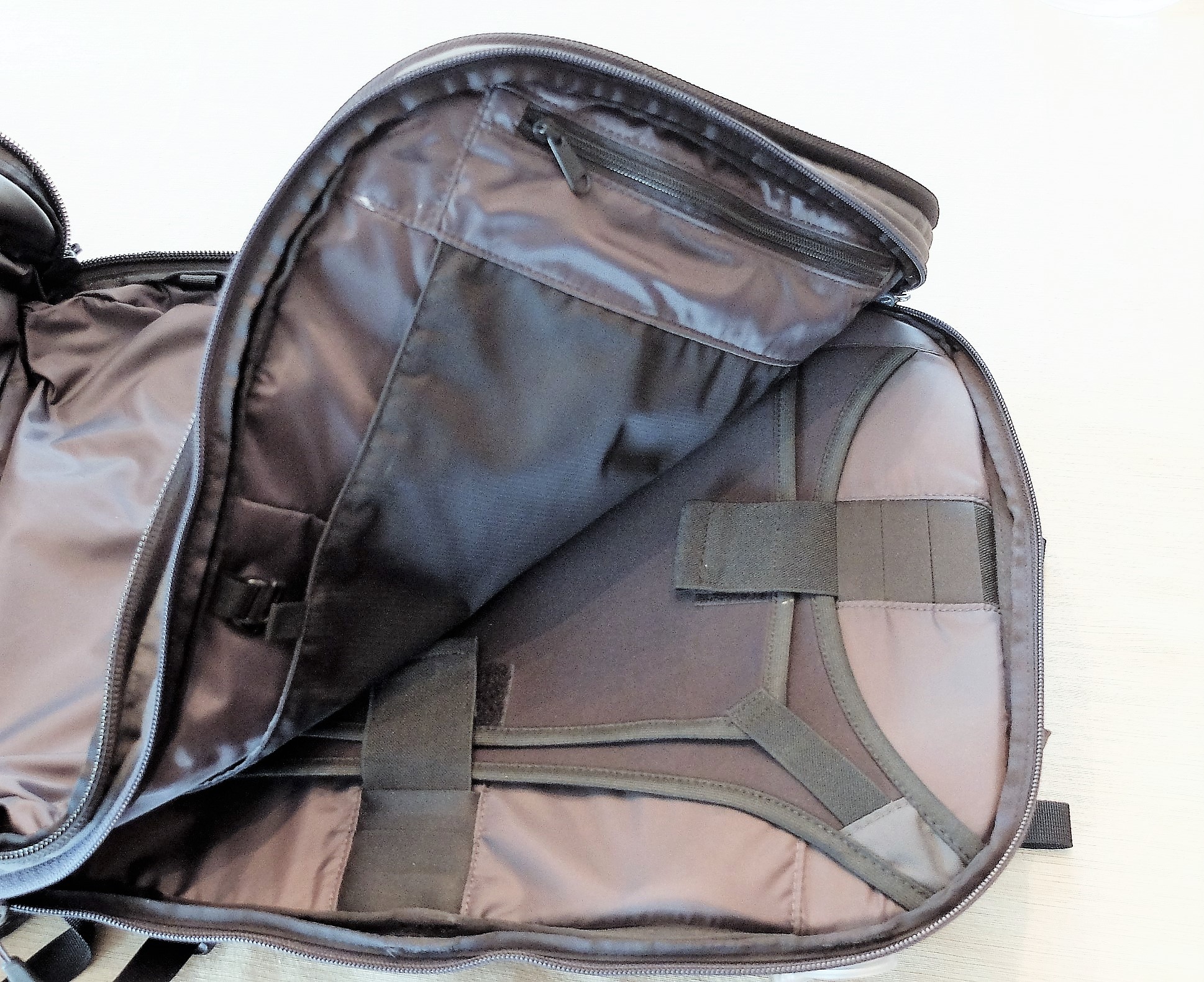 There are a few more small storage areas for pens, keys, phone, etc. and an exterior spot for a water bottle. This is one area I'd want to see improved upon in the next generation of pack. There is a lack of  organizational structure here. It would have been beneficial to have designated pockets and slots for pens, phone, passport, and such.
One of the complaints I've read in other reviews about the Minaal has to do with the suspension system. Granted it isn't nearly as robust as the Tortuga but this pack really isn't one you are going to take on a 20 mile hike. This is, in my opinion, an urban pack. It's great from airport terminal to train station and then to the hostel. The suspension does have load lifters and is supportive enough for walking around a town for a few hours.  An added detail is the cutouts on the back of the pack which allow for a bit of air circulation. My Porter has a flat back panel and that damn thing gets hot when walking in tropical environments.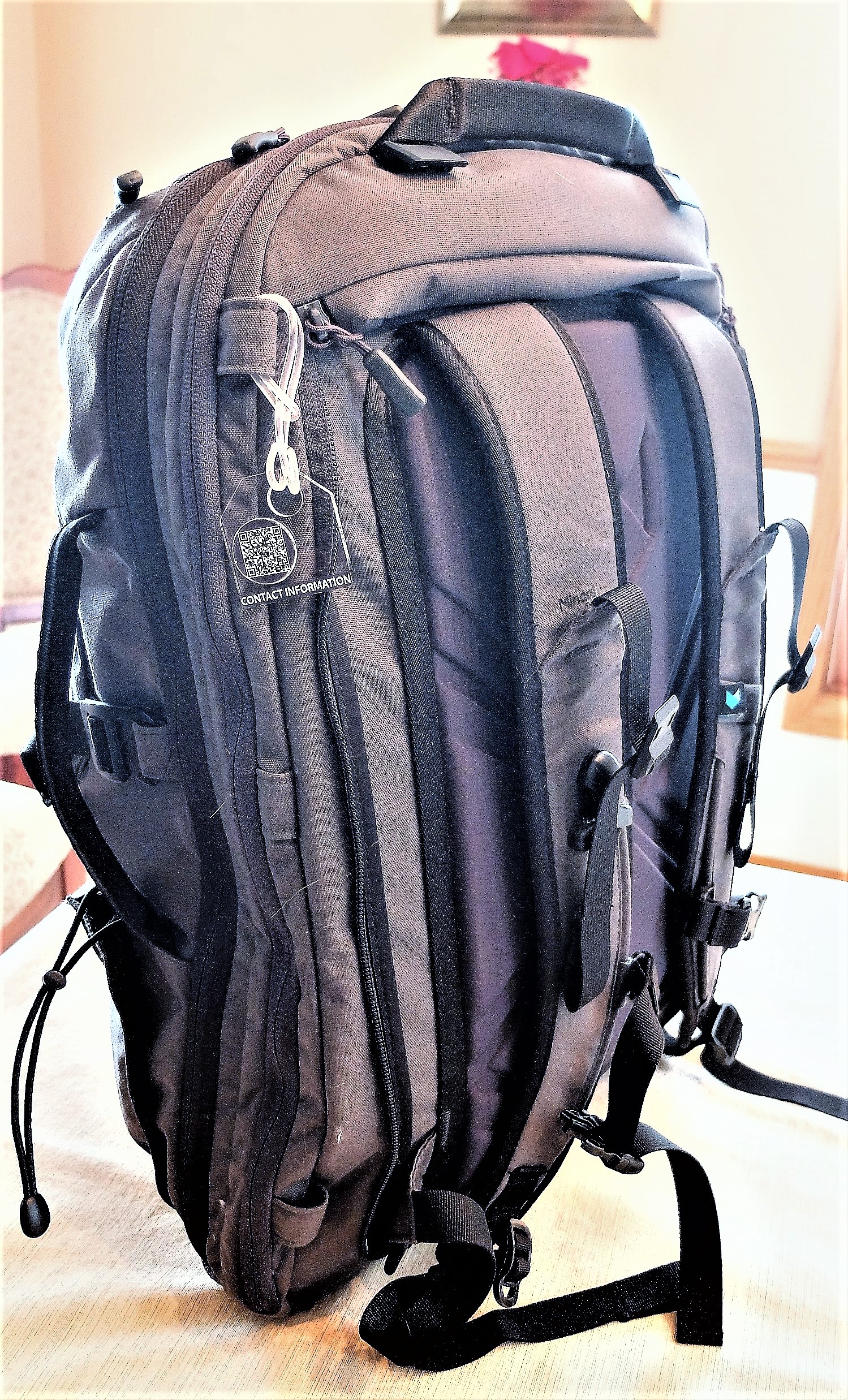 The process of packing properly is a bit of a challenge at times but when you start out with the right gear it makes it a bit more manageable. I'm glad we've minimized what we think is essential and I'm glad I found Minaal. Having less to manage certainly is a stress reducer.
One last thing. If you are wondering what that clear tag is on my Minaal in the last picture, it's a bag tag from a company called Tagonce. Here is a short review of what it's all about. Thanks again for checking us out!
Scott and Brenda
.
http://skippingstonetravels.com/wp-content/uploads/2016/11/DSCF1113-2.jpg
1583
2266
Skipping Stone Travels
http://skippingstonetravels.com/wp-content/uploads/2016/10/skipping-stone-logo.jpg
Skipping Stone Travels
2016-11-20 11:17:41
2017-01-29 09:42:32
Packs, Packs, and more Packs