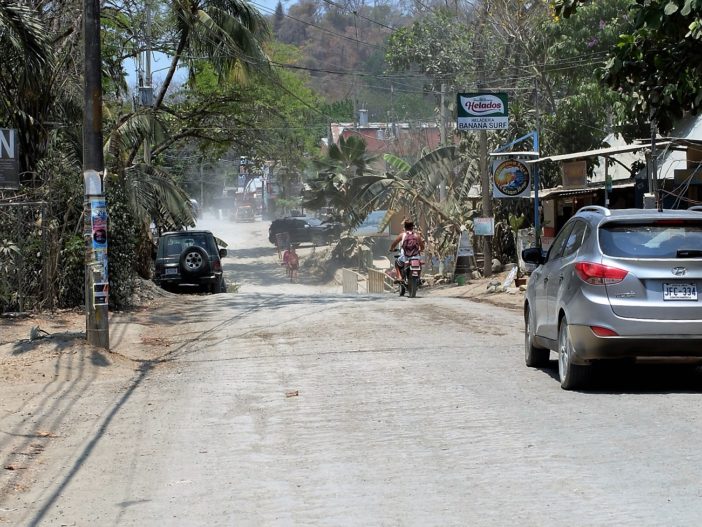 Having spent the better part of six months planning our first trip to Costa Rica, I must admit I had some baked in perceptions of what to expect. Lush jungle, beautiful beaches, hot humid weather, etc. All the things you'd expect after reading about this tropical paradise. Unfortunately, our first impression didn't quite match our expectations.
Picking a starting point for an adventure in a foreign country is always a bit challenging, especially if you are relying on your own ability to do the research. After hours of surveying different websites and travel blogs and talking with friends who've been there, we chose to start our Costa Rican adventure in Santa Teresa. In the southern Nicoya Peninsula, you will find this somewhat remote, laid back beach town, known for surfing and yoga retreats. No grand resorts or crowds of people, just a small beach village dashed with a handful of inns and requisite shops and restaurants. It sounded right up our alley, until we got there.
First impression; not good. It's basically one long potholed dirt road. As well-known as Santa Teresa is for its surf, it's equally known for possibly the worst road of any town in Costa Rica. Pot holes everywhere. Stretches of it almost impassable unless you have an SUV, which most people drive, creating a constant cloud of dirt. Hey, that's what you get when you travel there in the dry season.  So not only were we hot and sweaty from having to walk to our hotel because our pseudo cab driver dropped us off at the wrong place, we were filthy dirty. And that's before we even got to check in at our correct lodging. That's a story in of itself.
So much for a good first impression. As usual we try and keep an open mind about new places. Our attitude is that it's not right or wrong, it's just different. When looking for lodging that might fit our personalities, we decided to stay at a place called the Funky Monkey Lodge. This was a great decision. Smaller accommodations with a couple of private cabanas and some shared spaces that act as a hostel, along with a wonderful outdoor bar/restaurant. The crew running the place is fantastic. The lodge is located approximately 100 yards off of the main road that runs through Santa Teresa and only a 5 minute walk to the beach. The restaurant prepares great food and the drinks are spot on. If you are ever thinking about heading to Santa Teresa we highly recommend it.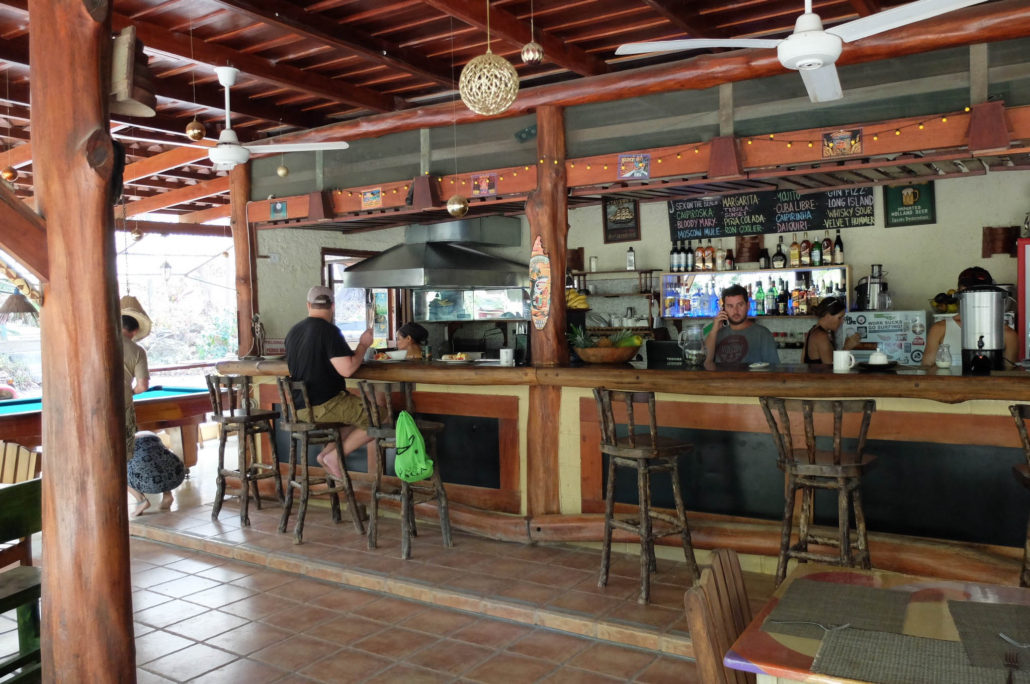 We settled in quickly and decided to wander and see what our choice of Santa Teresa would bring us. First thing you do when in ST is head to the beach because that's what it's all about. There are various points of access to the beach, all about 100 yards off the main road through the brush. Walking down one of the paths and coming upon Playa Santa Teresa for the first time changed our attitude quickly.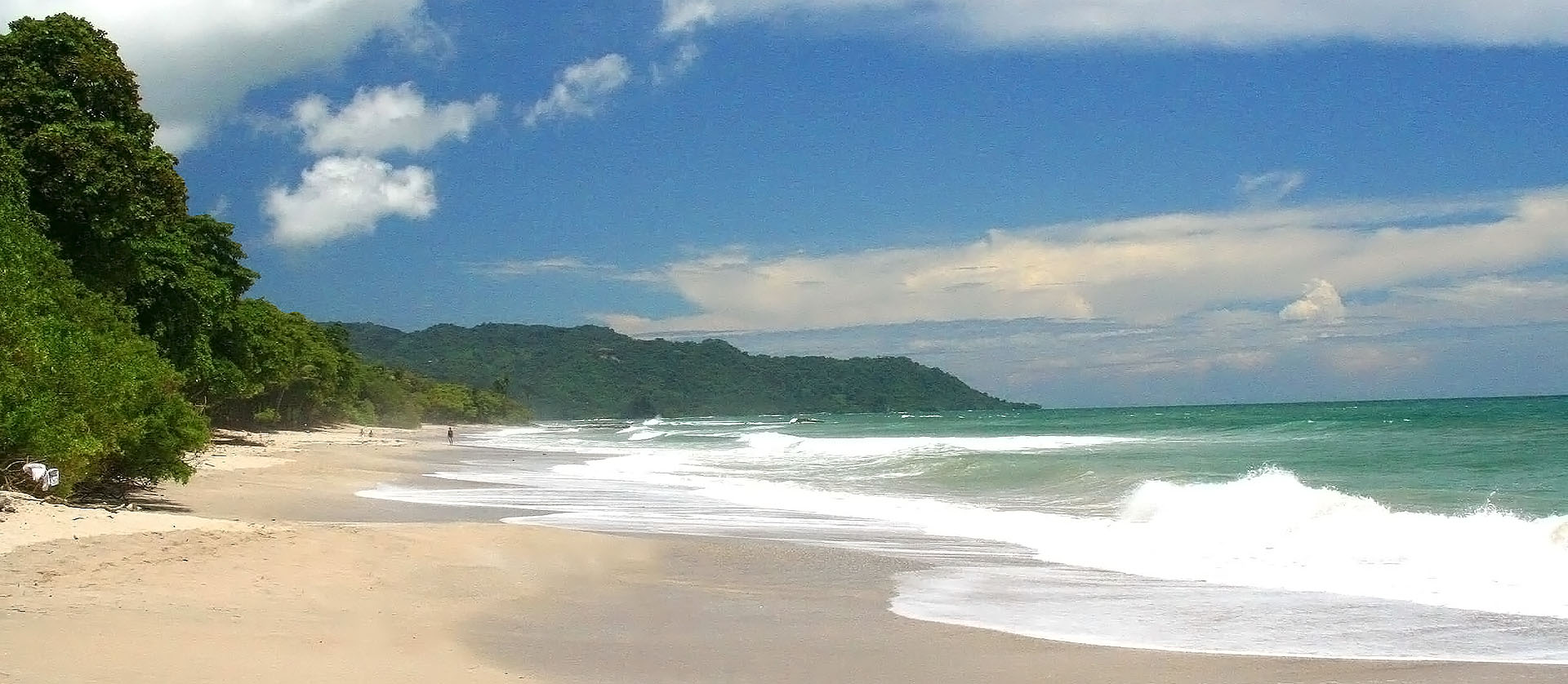 The uncertainty we had about our decision to vacation here quickly evaporated. Majestic is actually an understatement when attempting to describe Playa Santa Teresa. The beach appears to go on for miles in both directions. There are large waves for surfing and a beach that has great depth for walking at low tide. The Pacific looked beautiful. Emerald green water at a perfect temperature. This is exactly what we were looking for.
This trip was part vacation, part exploration. We were trying to decide if we could call Costa Rica home for a few years. Playa Santa Teresa is where we spent hours walking up and down the beach contemplating this question. Do we really want to pull the plug on our current situation and go all-in on a move to Costa Rica? Even after our initial impression, the answer was yes.
http://skippingstonetravels.com/wp-content/uploads/2016/07/DSCF0138-1.jpg
1961
1301
Skipping Stone Travels
http://skippingstonetravels.com/wp-content/uploads/2016/10/skipping-stone-logo.jpg
Skipping Stone Travels
2016-10-05 07:16:32
2017-04-18 15:22:00
Day 1 - Dusty Roads of Santa Teresa