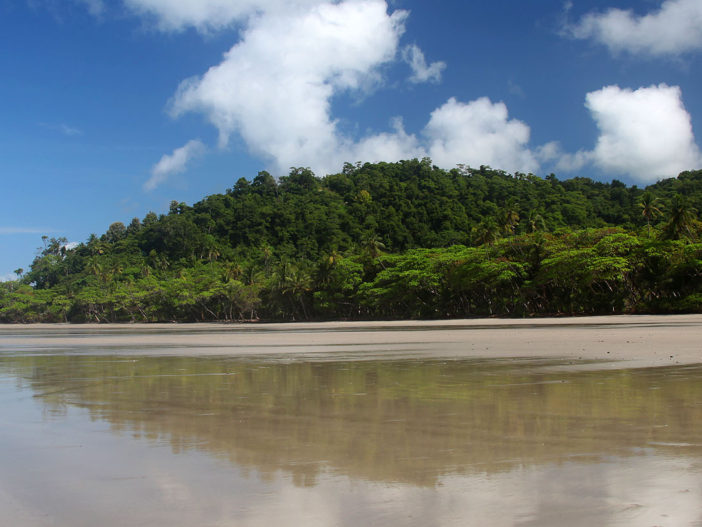 Playa Santa Teresa
The phrase, 'words can't express…' is certainly fitting when trying to describe our initial reaction to stepping out of the brush and onto the beach at Santa Teresa. It's not like we haven't seen our share of nice beaches, but Playa Santa Teresa was just different.
We happened to hit the beach at low tide so the depth of it was incredible.The sand drops off so gradually that you can walk almost 50 meters toward the Pacific before the water reaches past your ankle. To the north, the beach appeared to go on endlessly. Depending upon where your eyes focused, you'd see large waves breaking at various points making for great surfing or calm rollers suitable for swimming and playing. Off in the distance you'd see the haze from the ocean mist being thrown on shore from the incoming waves. And once you walked through the sand and into the Pacific, the temperature of the water was perfect. Cool enough to give us relief from the heat yet warm enough to be comfortable. It truly is a sight to behold. Yes, we love the beach!
There's a great book called Blue Mind by Dr. Wallace J. Nichols. In the book Nichols examines how being around the water changes our emotions and cognition. Not only is there an innate desire to be near water, but we recognize certain health benefits. Water has a calming influence on us which allows our brain and our bodies to enter a more peaceful state of rest. There's a tremendous amount of developing science around our attraction to water and its benefits. If you are interested in more information and a synopsis, Salon.com has a wonderful article on the topic. The article provides some fascinating statics about how impacted our lives are by water.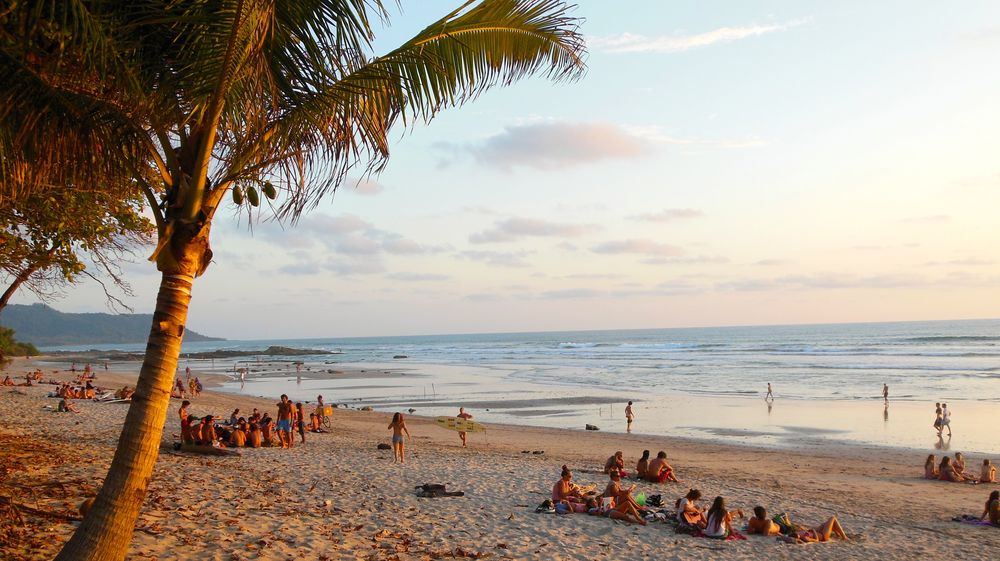 Brenda and I have always loved the beach. When we first started to research Costa Rica for a vacation spot we started with "where's the best beach?" I know that's a subjective question but that seems to always be the starting point. Almost all of our warm weather travel revolves around finding  a good beach and town. Our good fortune was that Santa Teresa gave us everything we were looking for in a vacation. Small, intimate settings, hot tropical air, along with a world class beach. All of that and within walking distance to the Funky Monkey Lodge. 
We spent a fair amount of time walking through the shallows at low tide, just trying to soak in as much of this experience as we could. For us, vacations are incredibly cathartic. I know most people probably would say the same thing about their vacations but we tend to travel fairly low key. We aren't that interested in signing up for the daily tour that a lot of vacationers feel the need to do. Hanging out on the beach and in town, meeting and making new friends is as good as it gets for us.
We did however decide to take surf lessons. As expected, Brenda was a rock star. I think she was up on her first try, maybe second. I on the other hand struggle to stand on flat ground. The last attempt before complete exhaustion proved to be successful. If the coastal area of Costa Rica is to become home for a while, learning to surf will be priority.
Thanks for checking us out.
Scott and Brenda
https://skippingstonetravels.com/wp-content/uploads/2016/10/playa-hermosa-banner-1920.jpg
812
1920
Skipping Stone Travels
https://skippingstonetravels.com/wp-content/uploads/2016/10/skipping-stone-logo.jpg
Skipping Stone Travels
2016-10-15 07:16:56
2017-11-11 16:32:11
The Beach