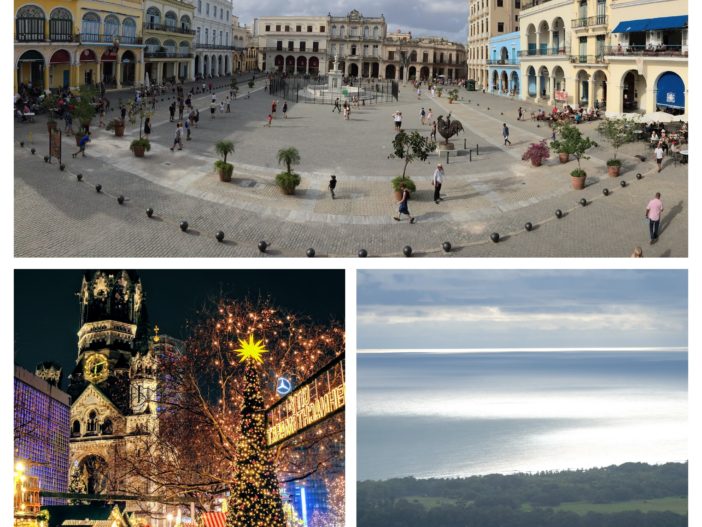 As the memories of 2017 start to slowly fade away and the anticipation of a new year begins to build, I thought it would be a good time to reflect a bit on some of our travel experiences from last year. It's no secret that Brenda and I love to travel and that it is an integral part of our lives. There is just so much to see and experience and learn in this world of ours. Even a quick inventory of where we went last year leaves us longing for more.
Besides spending time in Miami Beach, we were fortunate enough to take three unique trips in 2017. We explored places we've never been to before and returned to some old favorites. We experienced the heat of Havana nights, the deadly mudslides of tropical storm Nate in Central America and the gray, gloomy weather of Germany in December. As always, travel for us is experiential and this year definitely was sui generis.
We started the year off with a trip to Havana, which had been on my list for decades. Cuba, more than any other place, is a destination I still can't get my arms around. I wrote about the concerns I had with visiting Cuba before we went, and those feelings still linger. It is such a fascinating country and the hospitality from the Cuban people is second to none. But at the same time there is something unsettling about being there. You sense the oppression; the lack of capital and basic necessities is overwhelming. I had hoped to write a handful of reviews about Havana but have only been able to write one. You can read about it here. The more Brenda talk about Cuba, the more we realize we need to go back.
The one thing I will say about Cuba is that everyone should go. The people are remarkable. Everywhere we went they would ask us to please tell our friends to come. They are so hungry for interaction with the United States. If you go there, stay at an Airbnb. Eat at the paladars. Do everything you can to assist the people of Cuba while not giving a damn dime to the regime! These are small gestures, but they mean so much to them.
Our second trip of the year found us back in Costa Rica. This one had been planned for quite some time and had more of a purpose than the others. We went to scout locations to plant at least temporary roots in the future. Most of our time was spent in the central valley since our thoughts leaned toward moving to one of the many towns in the area. We did carve out a few days and headed to Costa Ballena to get in a little beach time and see what Dominical and Uvita had to offer. As much as I enjoyed our time in Costa Rica, this trip seemed a bit off. The weather had a dramatic impact on our plans and we left feeling as if we didn't accomplish our main goal.
I've had a few months to process the trip and though almost any of the towns we visited in the valley would do, I'm really leaning toward Dominical. Brenda and I are a bit obsessed with the small beach communities and I think this would be a great place to start. Most of the beach towns have a communal vibe to them, which is something we are looking for. Dominical and the surrounding area have a good mix of young and old, expat and Tico. There is just something about Costa Ballena that intrigues me. The thought is, if it's not the right fit we can just move on after a few months.
Our final trip was actually a spur of the moment decision. Our daughter works for a company headquartered in Berlin and travels there a couple of times a year for meetings. She was scheduled to be there in December and asked us to meet her. The last time we were in Berlin was in 2006 so it didn't take much convincing on her part. The only dilemma was that airfares were ridiculous. Berlin isn't the cheapest place to fly in and out of. Fares out of Chicago were around $1,200 so you can imagine what they were like out of Green Bay. I bet I checked prices multiple times a day just to see if there was any movement. A couple of weeks before Emma was to head out, I found a round trip flight out of Green Bay for under $500!
I forgot how much I miss going to Germany, especially during the Christmas season. We were fortunate for handful of years that work brought us to Frankfurt every December. This became the start to our holiday season. It gave us an opportunity to spend time with the friends we had made throughout the years but don't get to see often enough. In the evening, we'd all gather at one of the Christmas Markets and catch up on each other's lives. Before too long it was as if we hadn't been apart for an entire year.
But the greatest joy of this trip was getting to see Kira, our "German daughter." Kira lived with us for a year as an exchange student while she and Emma were high school students. Knowing that we were only going to be in Germany for a few days, she rearranged her work schedule and came to Berlin to visit the three of us. It's been almost nine years since our family first met her and I'm so grateful that we've been able to hold on to a relationship that spans over 4,000 miles.
There is a well-known quote by one of my favorite authors, Anaïs Nin. "We travel, some of us forever, to seek other places, other lives, other souls." I think this best describes what travel is about for Brenda and me. I'm not quite sure what 2018 will bring but I hope we continue to seek other places, other lives, and other souls. I hope we make ourselves available to others and that we strengthen current relationships and create new ones. Time to start planning the next adventure.
Thanks for checking us out!
Scott and Brenda
https://skippingstonetravels.com/wp-content/uploads/2018/01/IMG_2684-COLLAGE.jpg
2046
2046
Skipping Stone Travels
https://skippingstonetravels.com/wp-content/uploads/2016/10/skipping-stone-logo.jpg
Skipping Stone Travels
2018-01-08 18:52:45
2019-09-13 10:56:10
A Year in Review: The Past, The Present, The Future