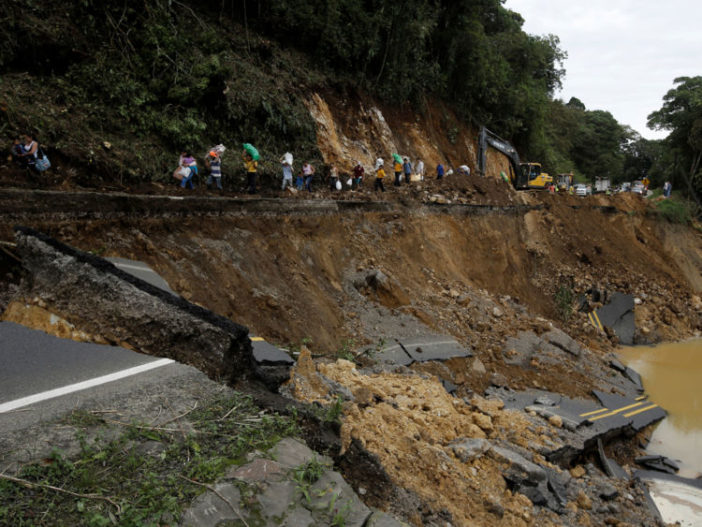 Well that was different. To be honest, I don't even know where to begin with this one. Brenda and I had a game plan as mentioned in a previous post regarding our objectives for this trip, but so much occurred during our time in Costa Rica that I'm not sure what the take away is. Or I should say, the take away is much different than we had expected. I literally could write for days about this trip but who the hell wants to read a travelblog novel. I think the best way to do this is by segmenting our time there into three categories. The good, the bad, and the ugly. I'm also going to do seperate reviews on specific places instead of detailing everything in one post. I'm trying to do a Cliffs Notes version for this one.
Before I begin, I want to mention the one thing that impacted everything we did: The weather. Tropical storm Nate pounded Costa Rica relentlessly much of the time we were there. You can read about it all over the internet if interested. The storm certainly gave us an education about Costa Ricas rainy season.
The Good
Let's start with 'the good'. It's Costa Rica. It's all good. This is the third trip in the last year and a half and I still can't get my fill.  We put on an incredible amount of miles and saw at least a dozen towns. Everything we experienced was different from previous trips and it added to our overall impression of the country.
After flying into Liberia, we drove to La Fortuna and stayed at a wonderful place called Volcano Lodge and Springs. Resorts usually aren't our thing but I thought it would be an interesting change of pace.  The foot print of the place was fairly large and the grounds were immaculate. If you wanted, you could spend your entire time at the resort. We had our own hot spring fed pool with a beautiful view of Arenal Volcano.
The La Fortuna area is well known for all the different excursions that are available. You can trek up to the Arenal volcano, go white water rafting, visit the blue waters of Rio Celeste, go birding or spend time in the natural hot springs. We only had one full day for an excursion and for some reason we ended up zip lining.
Years ago we were in Belize and gave it a try and it really didn't impress us. It was like going up in a hot air balloon. After a few minutes your thought is, "That was nice. I don't need to do that again." But we have friends who have been to Costa Rica a few times and pressed us to contact a company called Sky Adventures. They assured us that even though we had a mediocre zip line experience in Belize, this would be different. Well they were right! This may be one of the most memorable things we've ever done. There are not enough superlatives to describe the people or the operation. It is a heart pounding adrenaline rush like I've never experienced. The longest cable is about a half of a mile and you are 650 feet above the canopy at times. It's incredible. So much more than the one in Belize. The level of professionalism from the guides and the time they afforded us was fantastic. Our time in La Fortuna can definitely be categorized as a 'good'.
Another 'good' was our time in Dominical at Joglo Treehouse. It was worth the five and a half hour drive from La Fortuna to get there. I really wanted to see what Uvita and Dominical were like in comparison to the Nicoya coast. Brenda and I really love the area from Santa Teresa up through Samara and wanted to see what Costa Ballena had to offer. We are obviously drawn to the beach communities and were hoping Dominical would give us another option. I think this area is worth spending some significant time exploring. The people we came across were wonderful and the community seemed very inviting. Everyone we've talked to about Dominical has nothing but nice things to say about it.
I'm definitely going to do a review of Joglo Tree House in a future post but for now just a quick description. Joglo is a 170 year old Balinese house that the owner purchased, disassembled and then shipped from Bali to Costa Rica. He put it back together high on a hillside near Dominical overlooking the Pacific. It's literally stunning! The deck wraps around the house, giving you 360 degree views and your morning view from bed is the Pacific ocean. It's a bit off the beaten path and the drive up isn't for the faint of heart, but it is oh so worth it.
One last thing about Dominical I want to mention is a place called Fuego Brew Company. I'll do a short review of this in another post but wanted to make quick mention of it. I could see this being our local hangout if we move there. It's a must if you are staying around Dominical.
We did enjoy our time in the central valley, maybe not as much as expected though. All the towns were quaint and almost any of them would be be a good choice for a starting point. I'd say Grecia and Ciudad Colon were the two that I appreciated most. Atenas is wonderful but the expat community seems to be a bit on the older side. Nothing wrong with that but it's not exactly what we are looking for. We spent four days at Apartementos Atenas and hit as many towns as time permitted. I think by the end of the trip the weather was starting to takes its toll. It was cold and dreary much of the time and it didn't afford us the opportunity we were looking for to get outside and engage with as many people as possible.
The Bad
The 'bad' is a little bit more difficult to identify. As much as we enjoyed driving through the country, we spent more time behind the wheel than we'd have liked. There wasn't a lot of getting from point A to point B, quickly. Because of the weather, we had to find alternative routes sometimes and that was a bit of a challenge and certainly a time sucker. Driving in Costa Rica is challenging at times and when you can't use the main roads it becomes an adventure all of its own.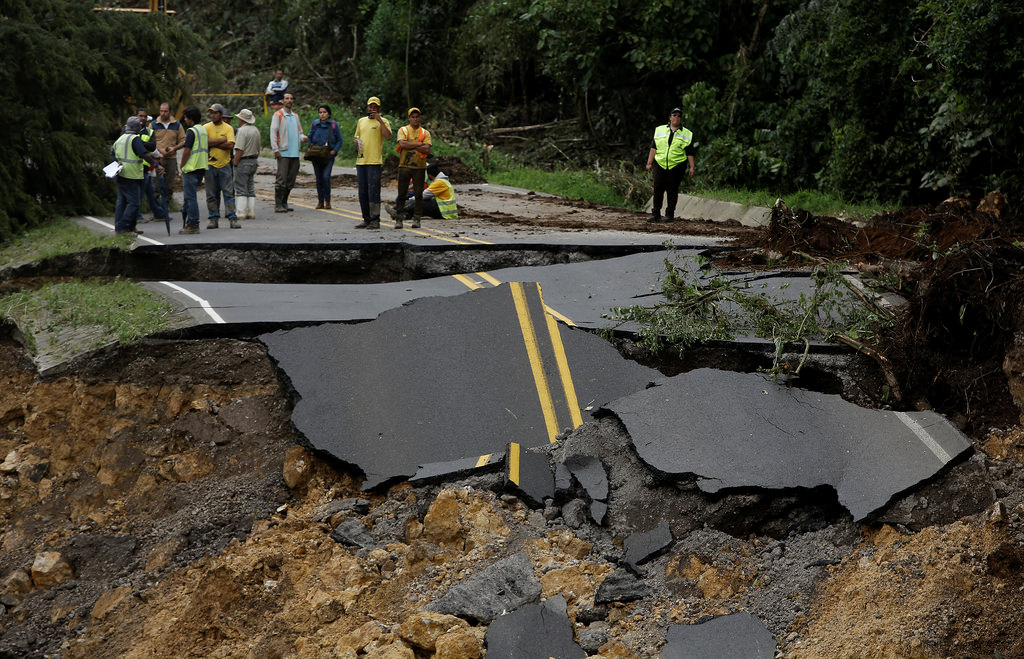 Not coming away with a clear path forward was a bit of a disappointment. We were hoping to scratch off the list the task of finding a town to live in. We may have, but it is going to take some time and reflection. Our hope for a visceral reaction to one of the cities definitely did not happen. We may have put too much pressure on ourselves and assumed that difficult questions would have simple answers. The best-laid plans don't always work the way you hope.  At the same time, it's hard to completely categorize this as 'bad'. We did get to see so much more of the country than we expected which gave us an even greater appreciation of the country.
The other 'bad' has to be that our time in Dominical was too short. We went there on a whim and should have expected that we'd want to be there longer. Brenda and I were just beginning to feel really comfortable and then it was time to move on. We were starting to feel the vibe that everyone talks about regarding Dominical. One night we ran into a couple of people at a place called the Jolly Roger and both said we need to spend at least a month in the area. I spent some time recently on an expat blog and got the same feedback from at least a dozen people.
The Ugly
Without question, the 'ugly' was the weather.  And I don't mean that from a position where it was an inconvenience or annoying. The weather was downright brutal. People lost their lives, families where seeking refuge in the trees and houses perched high were being washed away. Highway 27 was shut down for a day and a half with semi trucks backed up for miles. We had to find an alternate way back to Atenas from Jaco one night and ended up parked for a few hours on a back road in the dark while crews tried to deal with the mudslides. Brenda and I were stuck in a hurricane back in 1995 but we've never experienced rain like this. You felt as if it would never stop.
When there is a loss of life and a catastrophe the size of which the people of Costa Rica were dealing with, nothing else seems to matter. It's pretty hard to complain about your experience when you put it into proper perspective. We were there on vacation and knew we would be heading home. The people of Costa Rica had to start putting their lives back together. Yeah, I'd say the weather was the only ugly of the entire trip.
The question that runs through my mind now is "Where does this leave us?" Our hope of having a visceral reaction to one of the towns didn't happen; not even close. I think the more time we spend in Costa Rica the more we realize that there are a lot of options for us. Just like in a previous post about finding your spot, I don't think there is going to be that one perfect spot. It's about sticking a stake in the ground and starting somewhere. Everything in life is temporary and if our first choice doesn't work, we move on to our second choice. Personally I have a favorite, but we'll just have to wait and see.
Thanks again for checking us out!
Scott and Brenda
https://skippingstonetravels.com/wp-content/uploads/2017/10/costa-rica-storm-nate.jpg
563
750
Skipping Stone Travels
https://skippingstonetravels.com/wp-content/uploads/2016/10/skipping-stone-logo.jpg
Skipping Stone Travels
2017-10-23 20:31:10
2019-10-28 18:36:28
Costa Rica Part 3: Well That Was Different