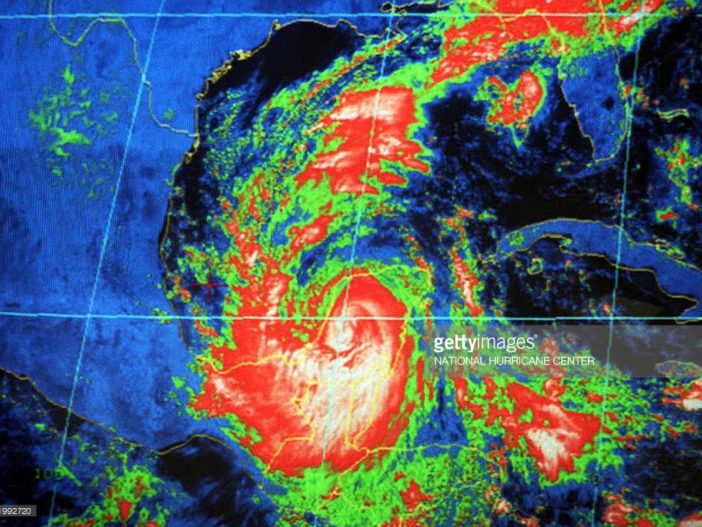 Back in 1995 Brenda and I decided to take our first real vacation. We were approaching our ten year anniversary and wanted to celebrate by traveling somewhere other than northern Wisconsin. We married young, and like a lot of young couples struggled a bit financially. At that stage in our lives travel was still a luxury. This trip, hopefully, would be the first of many to come.
Sites like Travelocity and Expedia weren't around yet, leaving us reliant on travel agents, resort catalogs and advice from family and friends. After spending time looking at a few dozen catalogs and brochures, we decided to go to Mexico. Neither of us had been out of the country before and Mexico seemed easy and inviting. Our plan was to spend the first three nights in Cozumel and the next five in Cancun. Being naive, we also wanted to be there during our anniversary, which is in October. Hurricane season never even crossed our minds.
As luck would have it, two days into our vacation tropical storm Roxanne quickly turned into a category 3 hurricane. There was no time to evacuate the island. We'd have to ride out the storm. I remember the storm as if it were yesterday. The sound of the wind blowing through our hotel and the pounding of the rain seemed to go on forever. It is by far the most frightening thing we've ever experienced. To this day, strong winds still bother Brenda. It's an experience I prefer not to repeat. We made it through the storm unscathed but ended up in Cozumel for five days until crews could clear a runway for small planes to shuttle people off of the island.
Fast forward twenty- two years and we have another storm of significance to deal with. This time it's Hurricane Irma. And though we had the comfort of tracking the storm from our home in Green Bay instead of being in it, we were no less concerned. We watched the path of the storm for days as NOAA and Accuweather Hurricane Center tried to figure out where it was headed. Initially, Irma was headed straight up the center of Florida, impacting the entire state. As the storm started to shift slightly to the west, we enjoyed a strange sense of relief that Miami Beach wouldn't be hit as hard as expected. But we also were concerned for all of those who would be in the path of Irma.
After the storm moved out and the power authority restored service to much of the city, I decided to fly down for the weekend and check on our condo. We received information from our neighbors that things weren't awful but that it was just one hell of a mess. Our daughter, who lives in LA, volunteered to meet me in Miami and help with the clean up. My greatest concern was the roof. It is well past its life expectancy and in serious need of replacing. Fortunately it held up. We did have some water in our unit, but not enough to cause serious damage.
Emma and I worked to try and clean up as much as we could and still get in a few hours of R&R. After working all day removing debris and cutting down trees and branches, we spent some time wandering around the rest of the city. From what we could see, most of the damage was to trees and landscaping. There were a few places that had some structural damage, but over all Miami Beach dodged a bullet. It will take some time to clean everything up, but the historic Deco buildings are still in good shape.
I'm hoping that this is the last weather event we have to deal with for another 22 years, but that's not a reasonable expectation. When you live in Florida, even part time, it is something that you can't avoid. All you can do is plan and prepare. We except the fact that having a vacation home in Florida brings with it some risks. But for vacations, maybe we should just stop traveling during peak hurricane season. There's a revelation!
P.S. I started writing this post shortly after Emma and I left Florida. Wouldn't you know, Brenda and I got caught in another weather predicament. Tropical storm Nate landed on Costa Rica just as we arrived. Maybe it's not just the women in our lives. More about that in the next post.
Thanks for checking us out!
Scott and Brenda
https://skippingstonetravels.com/wp-content/uploads/2017/10/Roxanne.jpg
730
1024
Skipping Stone Travels
https://skippingstonetravels.com/wp-content/uploads/2016/10/skipping-stone-logo.jpg
Skipping Stone Travels
2017-09-22 08:51:09
2019-09-20 18:09:23
The Women In Our Lives