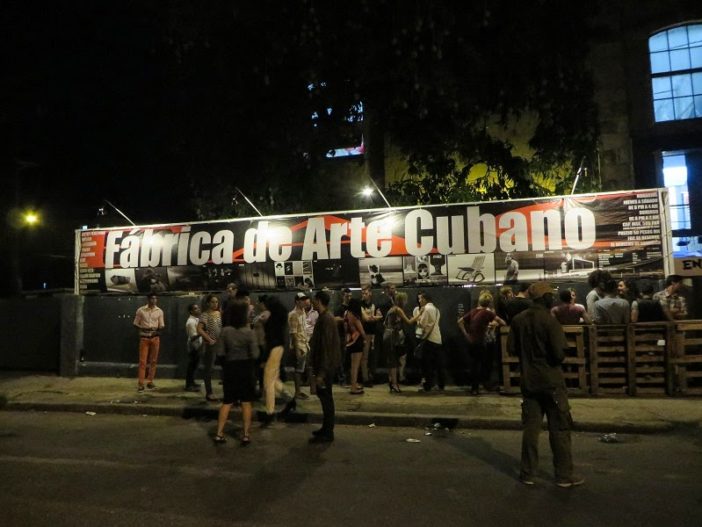 I had planned on writing a few in-depth reviews about our time in Havana, but to be honest I'm struggling to construct a cogent narrative. In a previous post, I wrote about trying to balance romanticizing Havana with the reality that is Cuba. And that is the dilemma I'm dealing with. Cuba is a complex subject, so writing something with a bit more depth is taking longer than I thought it would. I'm hoping to settle in and have something this week. For now, I'm posting on the one thing I can't stop thinking about: Fabrica de Arte Cubano.
We spent much of our time in Habana Vieja, which creates an image of Cuba that is both depressing yet beautiful. The incredible lack of capital is on full display in Old Havana. Its crumbling buildings, dilapidated streets, empty shelves in the tiendas and the general sense of despair are all around you. This is an area where you'll experience those who live on the margins every single day. It's only redeeming qualities are the sheer beauty of the Cuban people along with the historic architecture and the stories they tell. Contrast this image with what we experienced at Fabrica de Arte and it's difficult to believe that these two worlds actually coexist.
Fabrica de Arte Cubano (Cuban Art Factory), is the brainchild of X Alphonso, a Cuban hip hop and Afro-rock musician. He also is the son of the founders of the musical group Sintesis. Being involved in the music scene for most of his life, Alphonso wanted to create an environment where young and old could be exposed to the variety of the cultural world under one roof.
It's a combination of art gallery, cinematheque, and music venue. All three of which showcase up and coming artists along with those already established. The building itself is converted out of an old olive oil factory and is somewhat of a labyrinth. There are multiple bars and places to get food, along with two or three concert stages. Upstairs and down, you will find a variety of post-modern art scattered throughout and indie films being projected on the walls. Every corner you turn is another display of art. It is a potpourri of disciplines.
We waited in line for a half hour before the doors opened and were thankful for the advice to show up early. (Thanks Jeri and Dan! FAC is one of the hottest places in Havana. We left well after midnight and there was still a line to get in.) The first thing you should take note of when entering is the drink card that you are handed. It's a metaphor for the ration cards that every Cuban is aware of. Each paper card allows you to "charge" $30 worth of drinks. Once you've used up your allotment, you'll have to go get another card. Payment isn't taken at the time of purchase, but as you exit the building.
Walking around FAC, we were overwhelmed with the sights and sounds of the Cuban art scene. There are works of art on display and for sale. Music fills the entire factory from live bands or DJ's. But the most interesting thing to observe is the people at FAC. Most are young Cubans, although there is a large enough contingency of older people that made me feel I wasn't totally out of place. If you were to be dropped into FAC and unaware of your location, you'd never know you were in Havana, Cuba. And that is what makes it so amazing. This venue in any other metropolitan city would be somewhat impressive. The fact that it is in Havana is remarkable.
Our night ends with a raucous band playing a variety of music genres. The already energetic crowd seems to come alive even more at the sound of Fly Away from Lenny Kravitz. As I'm standing there singing along with the band and crowd, I can't help but to ponder the irony in that moment. I'm sure there are millions of Cubans who would love to fly away and leave the distressful reality that is everyday Cuba. But at the same time, there are so many that love their country and want to participate in the change that is certainly coming. The crowd at FAC wants to be part of that change. They are fiercely proud of their Cuban heritage and their country. They know there is a better path and they are forging ahead.
This is what revolution looks like in Cuba. It won't come from a military uprising or long negotiated diplomatic efforts by politicians. It will come from the street. From the artists, musicians, and writers. It will come from the younger generation who are fed up with being oppressed by those currently in power. The Cuban people want what most of us take for granted. They want the freedom to create their own destiny. Fitting that this freedom will come from Cuba's most creative class.
¡Hasta la victoria siempre!
Thanks for checking us out!
Scott and Brenda
https://skippingstonetravels.com/wp-content/uploads/2017/03/Fabrica-de-Arte-Cubano-2.jpg
600
800
Skipping Stone Travels
https://skippingstonetravels.com/wp-content/uploads/2016/10/skipping-stone-logo.jpg
Skipping Stone Travels
2017-03-12 14:44:01
2019-12-13 11:43:42
Fabrica de Arte Cubano: This is what revolution looks like.