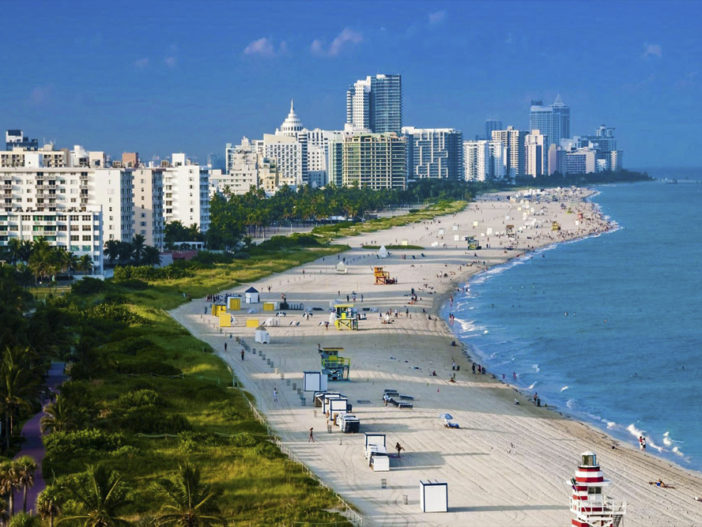 About five years ago Brenda and I started looking for a place down south where we could get away from time to time during the god awful long Wisconsin winter. We sat down one weekend and put together a list of preferences, along with things that were not negotiable. As expected, the number one requirement was a place with consistent warm weather. The second thing that was non-negotiable was a location that had a great walk score. We really wanted to be in a city that didn't require having a car.
With that being the starting point, we needed to decide on a geographical location and then set aside some time to explore. Even though we hadn't spent much time in Florida, we thought the State offered quite a few options. I'm willing to bet we spent a year researching different cities. We started with Clearwater Beach, then Sarasota, Tampa, St. Petersburg, Miami Beach, and Key West. After spending way too much time thinking about it, we narrowed our decision to Key West and Miami Beach.
As luck would have it, I had a trade show in Orlando to attend one week. On the last day of the show I had Brenda fly into Fort Lauderdale and picked her up on the way to Miami. We were already leaning toward Key West so we only planned two nights in Miami Beach. We booked a room at a small boutique hotel right in the heart of SoBe called La Flora. It's a great place to stay and we always recommend it to friends that want to visit Miami Beach. As fate would have it, choosing to stay there would have an incredible impact on our decision.
Before we left Green Bay we found a real estate agent online and exchanged a few emails to give him an idea of what we were looking for. Of all the people we could have contacted, we ended up with the most remarkable agent. His name is Oliver Davis and he is with Keller Williams. If you are ever thinking about purchasing a property in the Miami area you must contact him. His attention to detail and thoughtful advice helped us navigate a market we truly knew nothing about.
We spent our only full day in Miami Beach running around looking at roughly a dozen properties. The number of properties for sale is mind-boggling! After checking out one particular condo, Oliver mentioned that there was a studio in the same building and asked if we wanted to look at it just for fun. We spent all of five minutes walking through it and were surprised by what we saw. It was wonderfully decorated and came fully furnished. The building was a historic 1940 Art Deco building with a beautiful garden and a great location. Unfortunately, we were interested in something with at least one full bedroom.
After a long day and evening checking out the sights of SoBe, we headed back to our hotel. The manager of the hotel is a woman named Roz and when we returned she was curious how our condo hunting had gone. We had struck up a conversation the night before about why we were visiting the area and she wanted to talk a bit more. During our conversation she asked if I wouldn't mind taking some advice. Being completely lost in Miami, I welcomed anything she had to offer. I'll never forget what she said. "Miami Beach is where you live and Key West is where you visit." Roz went on to give multiple reasons why we should choose South Beach which included the art, culture, diversity, food and beach. That piece of advice stuck with me the rest of the evening and the next day while in Key West.
We headed to Key West in the morning to spend a couple of nights and repeat the process. After enjoying the fruits of Key West and looking at a handful of places, it was time to head back to Wisconsin. But not before making an offer on one of the places we looked at. Unbeknownst to Brenda, I was emailing Oliver while she was driving us to the Miami airport. I couldn't get the advice Roz had given out of my mind. I realized she was right. Everything we were looking for was in Miami Beach. I also couldn't stop thinking about the studio. I saw it as a low risk investment to see if Miami Beach really was where we wanted to be.
Fast forward four years and we are now in an amazing old 1936 Henry Hohauser building. After one year in the studio we realized how much me love Miami Beach. It didn't take long to sell our little studio and find someplace slightly larger so we could have friends and family visit. We are now literally 150 yards south of Lincoln Mall and just four blocks from the beach. We try and get to Miami Beach every other month, even for a long weekend so we can enjoy the climate and the culture. It truly has become our home away from home.
Brenda and I aren't certain how the next few years are going to go, then again who does. The one thing we both agree on is that we hope Miami Beach will eventually be our last stop. Of all the places we've spent time at, South Beach may be our favorite place. It affords us the consistent warm weather we enjoy and allows us to walk everywhere we need to go. We've begun to cultivate a few relationships even though we are infrequent residents and Miami Beach is somewhat of a transient city. Regardless of how it works out, for now I think we've found our spot.
Thanks for checking us out!
Scott and Brenda
https://skippingstonetravels.com/wp-content/uploads/2017/04/miami-beach.jpg
667
1000
Skipping Stone Travels
https://skippingstonetravels.com/wp-content/uploads/2016/10/skipping-stone-logo.jpg
Skipping Stone Travels
2017-04-23 19:30:23
2019-10-28 18:36:38
Miami Beach: Home Sweet Home?