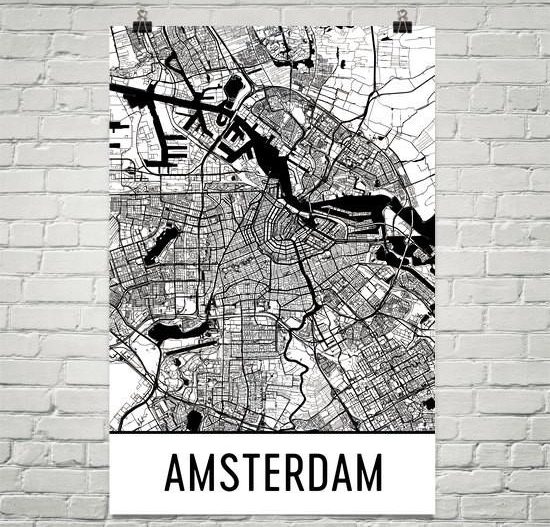 A couple of months ago, Jennifer from Modern Map Art contacted me and asked if I would be interested in doing a review of one of their maps. They are a Madison, Wisconsin based company and noticed that our web designer is located in the same city. After checking out their website I immediately responded with an affirmative. I saw it as a great opportunity to do a review for a hometown company and to possibly find a solution to something that has been bothering me a bit.
Brenda and I aren't big souvenir collectors when we travel. I may pick up a t-shirt or hat (which I have way too may of) and Brenda might buy a handmade item at a local market. The last thing we need is another trinket to sit around and collect dust. But at the same time we always want to find some small item that reminds us of a new adventure. As much time as we spend in Miami Beach you'd think we would have something other than just personal photos. For some reason we haven't been able to find anything worth collecting. Maybe something as simple as a map of Miami Beach could be that souvenir we've been searching for.
The other reason I was enthusiastic about checking out their art is because Brenda loves maps. It doesn't matter where we go, she usually has at least one paper map with her at all times. She loves studying the cities and surrounding areas we are going to visit and is able to familiarizing herself with the layout before we arrive. I can't tell you how many times we get to a new destination and she already seems to have a lay of the land.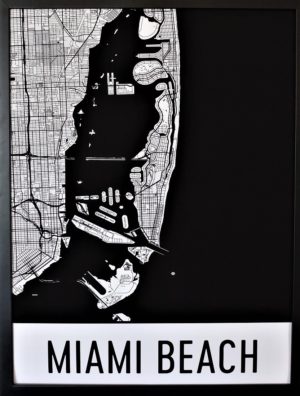 After trading a few  emails with Jennifer, my  Miami Beach map showed up. The poster came in a cardboard tube, gently rolled in tissue paper. As I slowly unrolled it I noticed the high quality and thickness of the paper. The posters are made from a museum quality matte paper, and printed with Ultrachrome ink.  The ink is rated to last over 100 years, and 200 years if properly framed and maintained. It really is a beautiful map that deserves a quality frame and a place of prominence in our house. At last, we finally have a souvenir to remind us of Miami Beach.
Brenda and I have already decided to order a couple of other maps from cities that have a special place in our hearts. I can see starting a collection of map art in place of a useless trinket. The simplicity and beauty of their production is a true expression of art. We couldn't be more pleased with the product and are proud to display it on a wall. Make sure you check them out here!
Thanks for checking us out!
Scott and Brenda
https://skippingstonetravels.com/wp-content/uploads/2017/05/Amsterdam.jpg
550
550
Skipping Stone Travels
https://skippingstonetravels.com/wp-content/uploads/2016/10/skipping-stone-logo.jpg
Skipping Stone Travels
2017-05-29 10:44:15
2017-05-30 17:32:30
Modern Map Art