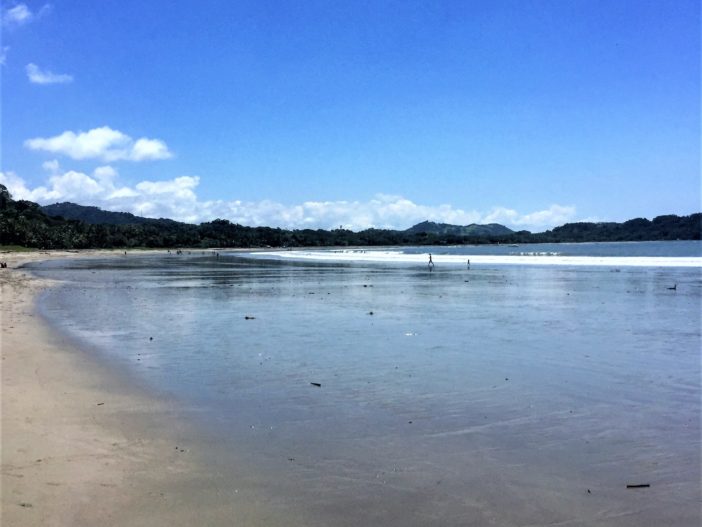 Last year, Brenda and I decided to give it one more try in regard to finding a place in Costa Rica to call home for a while. It's odd deciding to move to a different country yet not knowing where you will live. Our dilemma has been that we've enjoyed every place, but were hoping for that visceral reaction to one of the communities where you go "Yes! This is it".
This was our fourth trip in the last couple of years and I know we've put on at least 2,000 miles traversing the country from north to south. We've been fortunate to spend significant time in a variety of towns including Santa Teresa, Montezuma, Dominical, La Fortuna, Atenas, and San Jose, just to name a few. But for some reason we just haven't been able to pick a city.
Since our last trip we've been connecting with expats in Costa Rica who may have had similar issues. Getting advice from people who have made the move has become much easier with the assistance of Facebook communities. There is a plethora of pages devoted to almost any topic on Costa Rica you could imagine. One of the pages, called Gringo Expats in Costa Rica, has been a tremendous resource for us.
As expected, after reaching out to the Facebook group we were inundated with all kinds of advice regarding which town was the best. Everybody seems to have good reason for their own personal paradise. Many of the recommendations were places we had already visited, with the exception of a town called Nosara. With more than a few people proclaiming it to be the best place in Costa Rica to live, we decided to check it out.
I did a bit of homework ahead of time and there certainly is a tremendous hype about the town. It's somewhat of a quasi-planned community with defined zones/neighborhoods. The original development started in the early 1970's and is commonly referred to as El Projecto Americano. It's in reference to the U.S. developer Alan Hutchison who bought up most of the coastline and began selling plots.
We visited during the green season and like most areas, it was wet! The roads aren't paved so you deal with mud and potholes everywhere you go. The beach is certainly the lure for most. It is incredibly expansive and a favorite for surfers. It almost took our breath away the first time we stepped out of the trees and onto the sand. It's that remarkable. Nosara has a very unique and intricate path system that connects communities with beach access at multiple points. It allows you to traverse the town without having to drive on the pot-holed roads.
Nosara definitely is an interesting community. It's an amalgamation of the enlightened, a place where old hippies and New Agers collide. It's also the yoga capital of Costa Rica. You could say that Nosara is a reflection/sum of its parts. But the one thing everyone has in common is that they are the ones that have it all figured out, just ask them. When I was doing research, I came across some interesting quotes.
"What I like about Nosara is it's a place that not everyone loves, most good brands don't appeal to everyone." "The first time you come to Nosara, Nosara tells you if you need to stay or you need to go." "Eastern philosophy is in, watching TV is out, everyone has a tattoo." "You know you're special when The New York Times and Conde Nast write articles about you."
It's a beautiful community but there's a pretentiousness about Nosara that I couldn't get over.
There are plenty of choices for lodging and food with more than a handful of shops. Unfortunately it's not exactly what we were looking for. In a few years you could almost imagine the aging hipsters bombing around town in golf carts. One other thing I noticed, and this is just an observation, the town is very white. If you are trying to limit cultural experiences that are similar to back in the States, Nosara probably isn't the best choice.
We left Nosara feeling a little disappointed and headed to Samara for a couple of days just to relax and not think about the unanswered question. We were a bit frustrated that after four trips we still couldn't make up our minds. Our thought was to just enjoy the limited time we had left and we could reassess things when we got back to Green Bay. And then it happened. The moment we got into town, that visceral reaction we were looking for finally occurred. We both looked at each other and knew that this will eventually be home for a for a while.
Samara truly has everything we are looking for. It's a quaint, unpretentious beach community with a small gathering of expats from a variety of countries. The town is literally situated right on the beach. From almost anywhere in town you can be on the sand in ten minutes. There are a handful of restaurants and shops and while it doesn't have all the modern conveniences we are accustomed to, it is exactly what we were looking for.
This video is from the first time we stayed in Samara. We were privileged to be in Costa Rica for their Independence Day celebration and watched as the parade processional came right in front of our rental.
I think we always knew it was going to be Samara. We just made excuses for having to go back to Costa Rica. The last 3+ years of traveling and exploring different communities only gave us a greater appreciation for the country. But in the end, it was always going to be Samara.
Thanks for checking us out,
Scott and Brenda
https://skippingstonetravels.com/wp-content/uploads/2016/12/IMG_1580.jpg
2448
2448
Skipping Stone Travels
https://skippingstonetravels.com/wp-content/uploads/2016/10/skipping-stone-logo.jpg
Skipping Stone Travels
2019-10-10 09:13:30
2019-10-27 11:22:48
You Had Me At Hello